British-Italian Society Prizes
The British-Italian Society Prizes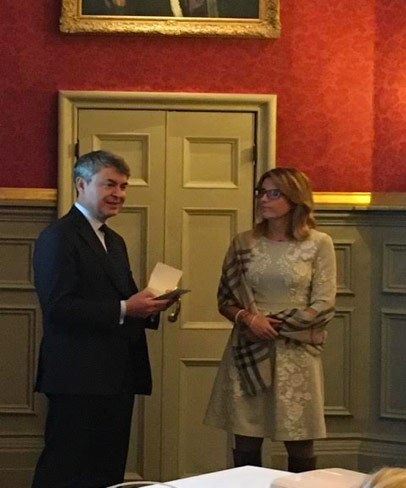 The Society created the biennial Rooke Memorial Prize in 2002 to encourage the study of Italian language and culture at British universities both at undergraduate and postgraduate level. The awards were made possible by the generous bequest of a long-standing British-Italian Society member, the late Rosemary Rooke. In 2019 the Society relaunched the awards as the British-Italian Society Prizes
Any university or academic institution in the UK or Ireland may submit one candidate in each category following a preselection process conducted by their Department of Italian Studies or equivalent. Undergraduates submit a final year essay (up to 5,000 words) or dissertation (up to 10,000 words). Postgraduate entrants submit a dissertation or a chapter of an MPhil or PhD thesis (up to 20,000 words). The entries may be submitted in English or Italian. The subject matter is confined to the humanities and social sciences relating to Italy from the Middle Ages to the present day.
The winner in the Graduate category receives an award of £750, and the winner in the Undergraduate category an award of £500.
The prize for best entry in the postgraduate category in 2016 was awarded to Marianna Griffini (London School of Economics) for her dissertation on Colonial Hybridity in the Italian Community in Libya (1926-1970).
The prize for best entry in the undergraduate category in 2016 was awarded to Lucia Crowther (University of Reading) for her essay on The Architectural Formalisation of Pilgrimage in the Portico of the Madonna di San Luca (Bologna).
The judges also commended the high quality of the entries submitted by the two runners-up in each category:
Postgraduate
Kate Willman (University of Warwick), On the New Italian Epic Historical Novels.
Stefano Bragato (University of Reading), Carte Brasiliane (Strategie di Composizione Letteraria in Filippo Tommaso Marinetti).
Undergraduate
Melanie Sackett (University of Exeter), Miss Italia: Analysing the Relationship between the Female Body, Tradition and Politics in Contemporary Italy.
Isabel Orange (University of Bristol), 'La Vera Babilonia': Babylon and her Transfigured Selves in Dante and Petrarch.
We are grateful once again to the Society for Italian Studies, for their assistance in administering the awards.
A panel of three judges selected the winners from shortlisted entries. This year the judges were Dr Federico Bianchi, First Secretary at the Italian Embassy, Mr Eugenio Bosco, BIS Trustee, and Dr Marco Delogu, Director of the Italian Cultural Institute.
Entries are now invited for the 2019 British-Italian Society Prizes. Please see the website of the Society for Italian Studies for details: http://italianstudies.org.uk