THIS EVENT IS NOW SOLD OUT!
A JOINT EVENT WITH VENICE IN PERIL FUND
On 14 July 1902 the famous bell-tower of St Mark, the city's totemic symbol, collapsed into a pile of rubble, crushing Sansovino's sixteenth-century Loggetta beneath it and narrowly missing the slender columns of the Basilica.  News of the disaster flashed by telegram round the world, and the shock and distress felt by Venetians at the sudden loss of their landmark bell-tower was intense. After an immediate decision by the town council that the Campanile would be rebuilt exactly as it was and where it was, the work of recovery, planning and rebuilding took ten years. Sarah Quill tells the story in this illustrated lecture.
Sarah Quill has worked between Venice and London since the 1970s, building up an extensive photographic archive of Venetian architecture, sculpture and daily life. Her book, Ruskin's Venice: The Stones Revisited was published in 2000, followed by a new and extended edition in 2015, which has recently been translated into Italian. She lectures regularly, principally on Venetian subjects, and is a trustee of the Venice in Peril Fund.
****
THE TALK WILL BE FOLLOWED BY A DRINKS RECEPTION
PLEASE NOTE: Doors will open at 6:30pm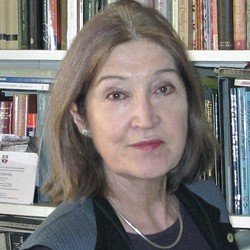 DISCLAIMER: By participating in a BIS webinar or live event you automatically agree to authorise recording of audio and visual content during the event and consent to subsequent use of the recording in the public domain. This recording may include questions, comments and poll responses provided by you during the event in addition to your name, voice, image or likeness. This recording will be made available after the conclusion of the live event as part of the BIS webinar archives, and will remain available indefinitely. If you do not wish to consent to the recording, please do not join the event or contact us to discuss your concerns.