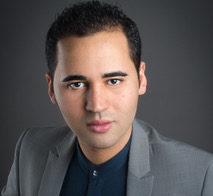 This recital will range over two and a half centuries of vocal music inspired by the Italian language. The inspiration was often love, from Beethoven's Ariettas which, it is speculated, were written for the object of his affection, his pupil Therese Malfatti, through to Benjamin Britten's settings of Michelangelo's love songs (in the original language), which Peter Pears later said was one of the greatest works Britten had ever given him. The recital will stray away from love, with songs by Respighi and Rossini, not to mention four canzonen by Schubert. Please come along - and bring a friend!
Wagner Moreira studies with Richard Berkeley-Steele and Iain Ledingham at the Royal Academy Opera, having a BMus degree from the Federal University of Minas Gerais (Brazil) and a MA degree with Distinction from the Royal Academy of Music. He received 1st Prize in the 10th Villa-Lobos National Contest, was a prize winner in the 1st Young Soloists of the Symphonic Orchestra of Minas Gerais Contest and in the 9th Bidu Sayão International Singing Contest. During his Master's degree at the Royal Academy of Music he was awarded 2nd Prize at the Schumann Lieder Competition. He has performed the roles of Don Ottavio in Mozart's Don Giovanni, Oebalus in Mozart's Apollo et Hyacinthus, Basílio and Don Curzio in Mozart's Le Nozze di Fígaro, Secondo Soldato in Monteverdi's L'incoronazione di Poppea, Goro in Puccini's Madama Butterfly and Pluto in Offenbach's Orphée aux Enfers. Recent concerts and upcoming engagements include Mozart's Requiem and Coronation Mass, Beethoven`s Mass in C major and the Ninth Symphony, Haydn's Nelson Mass, Handel's Messiah and Bach's St John's Passion.
Wagner is extremely grateful for the generous support of the Santander Universities' UK Scholarship, Fordyce Scholarship, Simon Fletcher Charitable Trust, Dartington Hall Trust and Josephine Baker Trust.
Michael Pandya is a versatile young pianist specialising in song and chamber music, performing with Graham Johnson, Jonathan Lemalu, Anna Huntley, Robin Tritschler and Eamonn Dougan. His recital schedule has taken him across the UK and Europe. He recently won the prestigious Brenda Webb Award for Accompaniment at the Royal Academy of Music.
Michael has received numerous other prizes including the Joan Chissells/Rex Stephens Schumann Lieder Prize, the Vivian Langrish Piano Prize and the Pianist Prize at the Rosenblatt North London Singing Competition. Recent performing engagements include appearances at the Wigmore Hall, KlavierFestRuhr in Germany, Newbury Spring Festival, Leeds Lieder Festival, Royal Overseas-League London, the House of Bob Boas, and live on BBC Radio 3's In Tune. Upcoming engagements include concerts at Aberdeen Youth Festival, Oxford Lieder Festival and Harrogate International Festival. He has given recitals for the Park Lane Group and the Concordia Foundation and is a Samling Artist. In 2017 he was the recipient of the Graham Johnson Fellowship at SongFest, Los Angeles.
Michael graduated from Queen's College, Oxford with First Class Honours in 2015. There he directed student operas by Albinoni, Haydn and Michael Nyman, and worked as a repetiteur with New Chamber Opera for two years. He was also Accompanist in Residence for the Oxford Lieder Festival.
Michael now studies at the Guildhall School of Music and Drama. Teachers have included Julius Drake, Michael Dussek, James Baillieu, Ian Brown and Caroline Palmer. Michael's studies have been generously supported by the Countess of Munster Musical Trust, Help Musicians UK, the Leverhulme Trust, the Clumber Studio Trust and the Winifred Christie Trust.
 Drinks will follow the recital