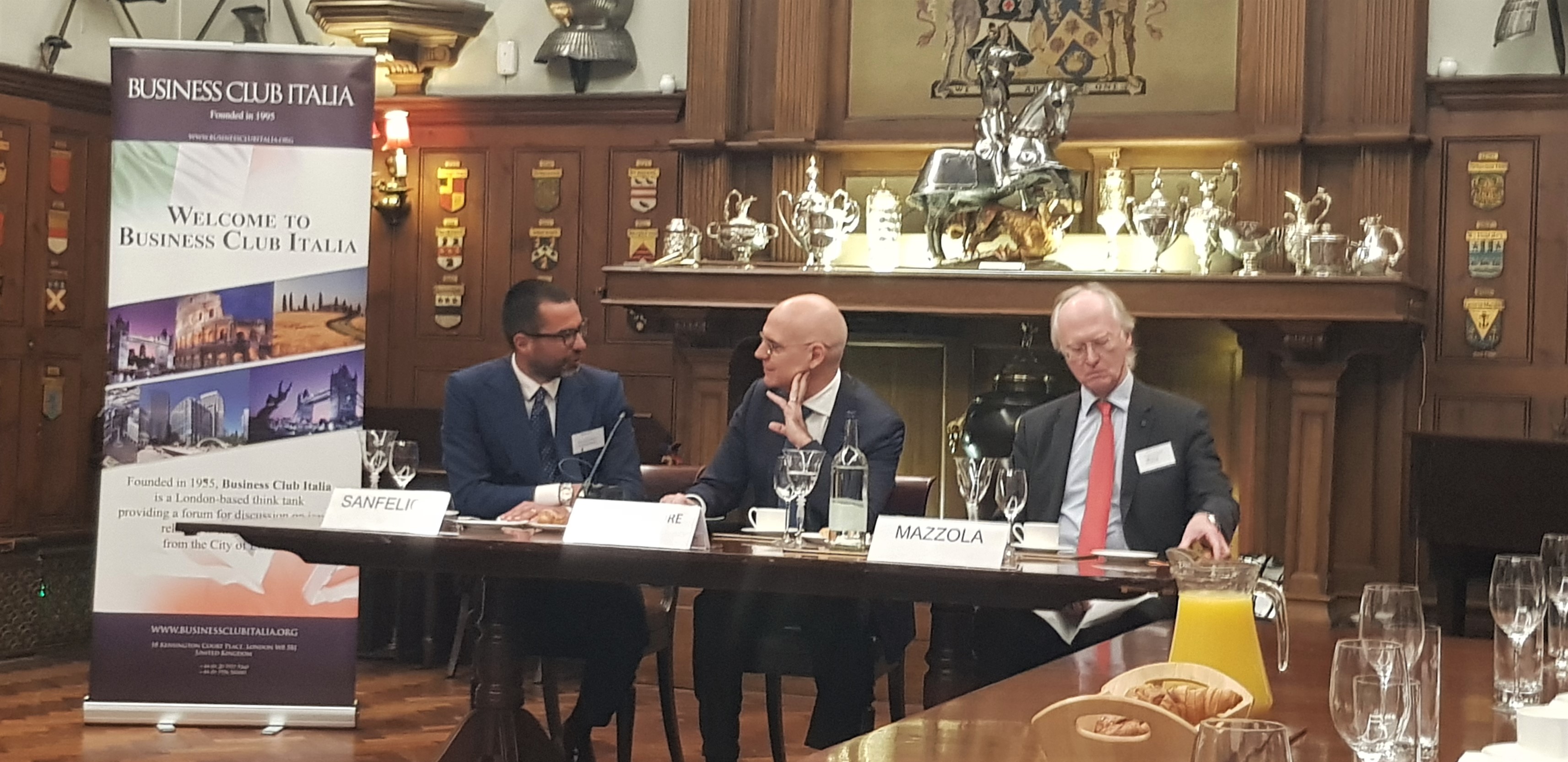 BUSINESS CLUB ITALIA
Breakfast con Carmine Di Noia, Commissario CONSOB
Martedì, 26 febbraio 2019 alle ore 08.15 per le 08.30 
Carissimi Amici,
il 26 febbraio avremo l'onore di ospitare il Commissario CONSOB, Carmine Di Noia, per il nostro primo breakfast dell'anno. Il Commissario Di Noia ci parlerà di Brexit e mercati finanziari italiani.
L'incontro avrà luogo presso il Wax Chandlers Hall,  6 Gresham Street, London EC2V 7AD, e inizierà alle ore 8.30 e si concluderà entro le ore 10.00.
Per i soci dei Club gemellati il costo è di £ 20 e di £ 25 per gli Ospiti da effettuare prima dell'incontro tramite le solite modalità (vedi sotto).
NB:   Italian-speaking members of the British-Italian Society are very welcome to attend. They qualify for the discounted price of £20.
Con l'occasione vi comunico anche le date dei prossimi eventi (seguiranno ulteriori dettagli):
- 13 Marzo ore 8.15 – 10.00 Breakfast con Beppe Severgnini del Corriere della Sera – Armourers Hall
- 29 Marzo ore 8.15 – 10.00 Breakfast con Ing. Ugo Salerno,  Presidente Rina SpA – Armourers Hall
Per ogni informazione in merito fatte riferimento direttamente a Sidney Celia Ross, Direttore Generale
Vi ringrazio per l'attenzione e vi invio cordiali saluti
Giovanni Sanfelice di Monteforte
Presidente
PAGAMENTI
Bonifico:
Account 30321082 a nome del Business Club Italia
Santander UK plc, sort code 09 01 54
IBAN GB83 ABBY 09015430321082;  BIC/SWIFT ABBYGB2LXXX
Carta di Credito
telefonando a Sidney Celia Ross +44 (0)7956 581081
Assegno:
Intestato a Business Club Italia, 18 Kensington Court Place, London W8 5BJ
Fondato nel 1995
tel. + 44 20 7937 5360                              m   + 44 (0)7956 581081