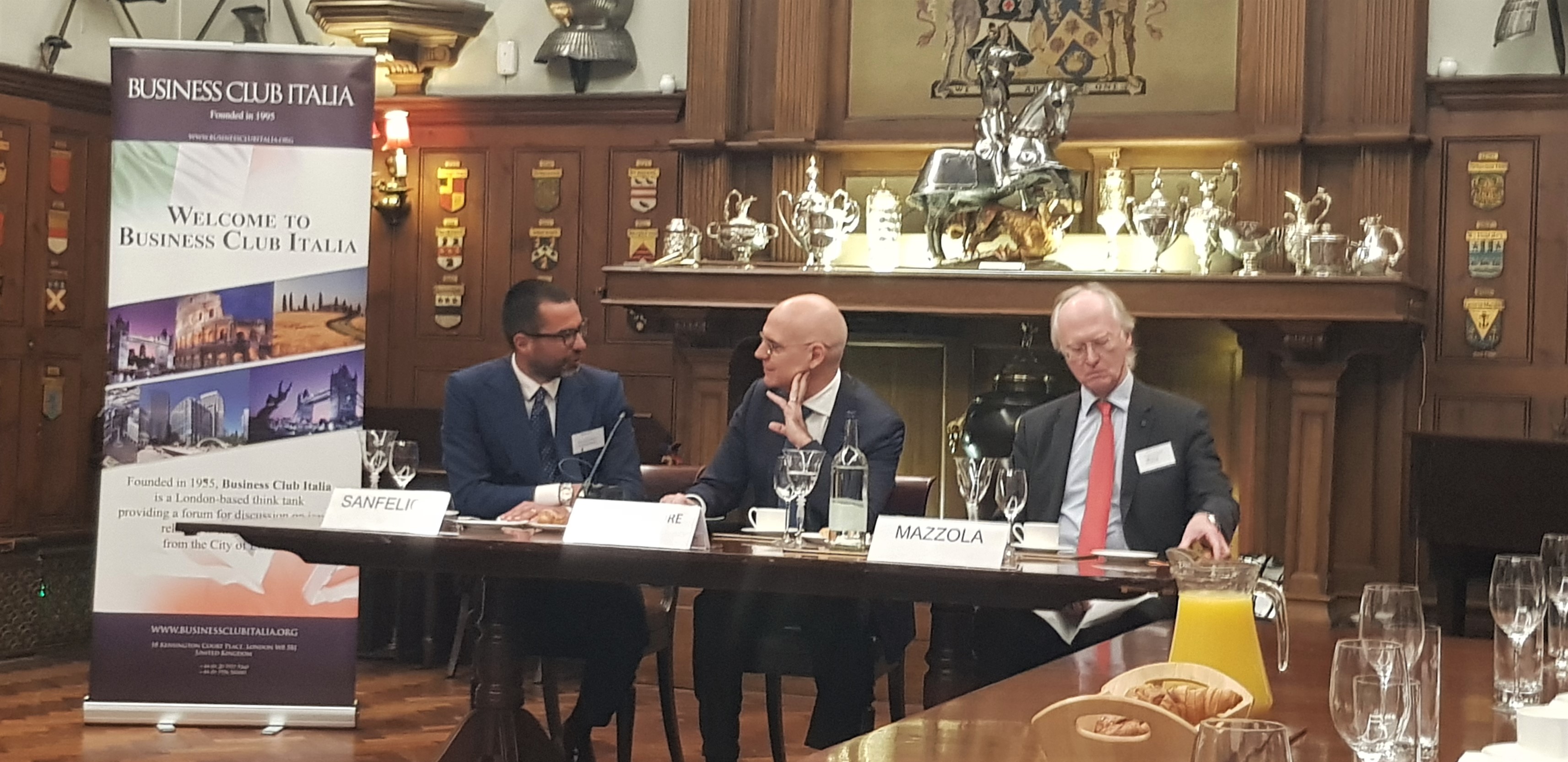 BUSINESS CLUB ITALIA
Breakfast con Federico Ghizzoni e Tommaso Migliore
Le sfide del Fintech e le sinergie nell'industria bancaria
Giovedì 16 maggio 2019 alle ore 08.15 per le 08.30
Armourers Hall, 81 Coleman Street, London EC2R 5BJ
il 16 maggio avremo due ospiti d'eccezione per un tema di assoluta attualità. Tommaso Migliore è il fondatore e CEO di MDOTM, una delle start up fintech più innovative e all'avanguardia basata sull'implementazione dell'intelligenza artificiale nel campo degli investimenti sui mercati finanziari. Federico Ghizzoni, ex CEO di Unicredit e Presidente di Rothschild Italia, è stato uno dei primi investitori in MDOTM.
Il tema dell'incontro sarà proprio sulle sfide che l'industria bancaria internazionale dovrà affrontare grazie all'innovazione e all'apporto dell'intelligenza artificiale, una sfida non una minaccia.
L'incontro avrà luogo presso il l'Armourers Hall. 81 Coleman Street, London EC2R 5BJ e inizierà alle ore 8.30 per finire entro le 10.00.
Invitiamo tutti i soci, per cui il breakfast è gratuito, di confermare la loro presenza al Direttore Generale del Club, Sidney Celia Ross entro il 14 maggio. Per i soci dei Club gemellati il costo è di £ 20 e di £ 25 per gli Ospiti da effettuare prima dell'incontro tramite le solite modalità (vedi sotto).
NB:   Italian-speaking members of the British-Italian Society are very welcome to attend. They qualify for the discounted price of £20.
Con l'occasione vi comunico anche le date dei prossimi eventi (seguiranno ulteriori dettagli):
22 Maggio -  Giordano Zinzani,  Enologo, Presidente Consorzio Vini di Romagna
11 Giugno - Shaun Bailey (candidato sindaco di Londra per i conservatori)
Per ogni informazione in merito fatte riferimento direttamente a Sidney Celia Ross, Direttore Generale
Vi aspettiamo numerosi.
Vi ringrazio per l'attenzione e vi invio cordiali saluti
Giovanni Sanfelice di Monteforte, Presidente
PAGAMENTI
Bonifico:  Account 30321082 a nome del Business Club Italia
Santander UK plc, sort code 09 01 54
IBAN GB83 ABBY 09015430321082;  BIC/SWIFT ABBYGB2LXXX
Carta di Credito
telefonando a Sidney Celia Ross +44 (0)7956 581081
Assegno:
Intestato a Business Club Italia, 18 Kensington Court Place, London W8 5BJ
Fondato nel 1995
tel. + 44 20 7937 5360                              m   + 44 (0)7956 581081