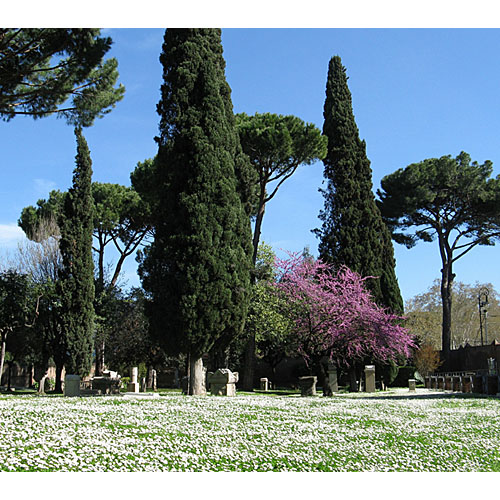 A lecture by Dr Nicholas Stanley-Price FSA at the Royal Society of Antiquaries, Burlington House, Piccadilly on 17 April.
In 2016, the Protestant cemetery in Rome celebrated 300 years of continuous use by the city's foreign community. It has frequently been painted by local and visiting artists, often following a commission from a bereaved family. Their depictions, together with written sources, throw new light on the burial-ground in the 18th century and on the vexed question of why Protestant funerals were held at night. The lecture will also re-assess the sanctity ascribed to the graves of John Keats and Percy Bysshe Shelley as the bicentennial (2021-2) of their deaths approaches.
Nicholas Stanley-Price, a former Director-General of ICCROM, is a member of the Cemetery's Advisory Committee and Editor of its Friends' Newsletter. He curated the Cemetery's tercentenary exhibition held at the Casa di Goethe in Rome. Both the exhibition catalogue and his book The Non-Catholic Cemetery in Rome, its history, its people and its survival for 300 years are available in English, Italian and German editions.
The lecture begins at 13.00 on Tuesday 17 April. Doors open at 12.30.
The lecture is free and open to the public, but space is limited and reservations are strongly recommended to avoid disappointment.  To reserve a place(s), please visit the Society of Antiquaries of London website at:
https://www.sal.org.uk/events/2018/04/where-keats-and-shelley-lie-the-protestant-cemetery-at-rome/