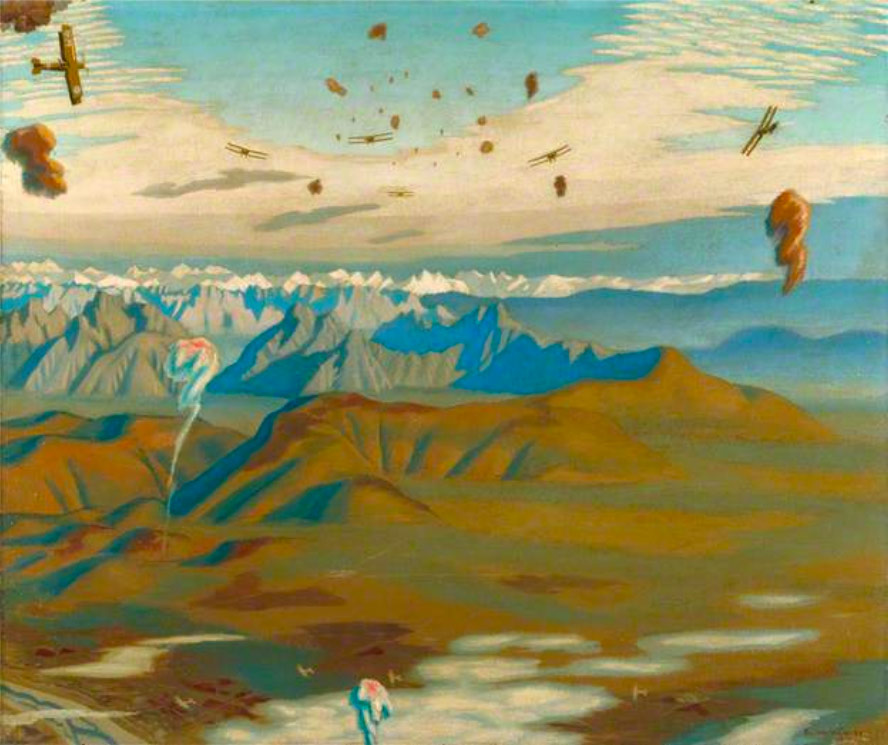 Sydney William Carline (1888-1929) was born in north London into a highly artistic family – both his parents, George and Annie, were accomplished painters. Sydney displayed a precocious talent for working in watercolour while studying at Repton Public School and the Slade School of Art. By the time he left the Slade in the summer of 1910, Sydney was already emerging as a talented landscape artist, a gifted topographical etcher and a skilled designer of medals. For a year after Britain declared war on Germany, on 4 August 1914, Sydney was deeply torn as to whether he should volunteer for the war – his left-liberal family was generally strongly inclined to pacifism. Early in 1916 Sydney finally resolved to take part in the war and volunteered to become a pilot with the Royal Flying Corps. He was awarded his wings in July 1916 and a month later was posted to a fighter-bomber squadron in France. However, he was shot down and seriously wounded on his third mission and had to spend nearly a year recuperating and recovering his strength. In February 1918 he was posted to serve with 28th Squadron, equipped with Sopwith Camel fighters, based near Vicenza. This was part of the air component attached to the British Expeditionary Force to Italy which arrived in the
country late in November 1917. Sydney served as an operational fighter pilot for nearly five months during which he shot down three enemy Austro-Hungarian aircraft and twice crashed after his Camel was hit by enemy anti-aircraft fire. Late in July 1918 he was appointed an official British war artist by the Ministry of Information with a brief to record the exploits of the four squadrons of the RAF based in Italy at the time. He worked as a war artist from August 1918 to the end of the war between Italy and Austria-Hungary, sketching from the cockpit of his Sopwith Camel and from the rear cockpit of a larger Bristol Fighter-Bomber. He was also able to drive over the battle fields of the Piave and the Asiago Plateau in November 1918 in his motorcycle and sidecar, operating from his studio based in Vicenza's Municipal Museum.
Dr. Black proposed talk/tour of Carline's work in the exhibition will focus on his experiences as a fighter pilot in the Italian skies in 1918, his imagery of the often dramatic Italian landscapes below, his perception of the Italian people (as combatants and as civilian refugees) and of the Austro-Hungarian enemy whom the British on the whole regarded as a rather mysterious unknown quantity. It is clear that Sydney, who had never been to the country before 1918, fell in love with Italy. He took his first post-war holiday in 1920 in central/southern Italy, (his father George would actually die in Assisi during that trip), and visited Italy almost every year in the 1920's. He was planning a trip to Tuscany for the spring of 1929 when he fell ill and died from pneumonia in mid-February 1929.
Dr. Jonathan Black studied History at St. John's College, Cambridge and History of Art at University College, London. Recent Publications include: The Face of Courage: Eric Kennington, Portraiture and the Second World War (London, 2011); Abstraction and Reality: The Sculpture of Ivor Roberts-Jones (with Sara Ayres, London, 2013) and The Complete Prints of C.R.W. Nevinson (London, 2014). He is the curator of the exhibition War in the Sunshine. The British In Italy in 1918 through the Eyes of Sydney Carline, Ernest Brooks and William Brunell and has contributed two essays to the catalogue. His latest book will be published by Bloomsbury, London, in March 2017: The Titan with Many Faces. Winston Churchill in British Art c. 1900 to the Present Day. He is currently a Senior Research Fellow in History of Art at Kingston University focusing on the period 1900 to the 1940's with particular interest in the work of official and informal war artists.